About Papertrue.com
PaperTrue.com is a brand new proofreading and editing service that has gained considerable popularity for a few years now. It has become a new trend in the academic writing industry where innumerable proofreading and editing services are mushrooming online. It's good to know that if students strive to impress their professors with refined papers, one can hire an academic service to perfect it for you.
Having that said, if one checks out the reviews of PaperTrue.com, he/she can see that it has countless mixed reviews online. Some students praise the site for being the best proofreading service in the market and offering unwavering assistance. Others claim PaperTrue.com to be a scam that delivers terrible work robbing people of their money.
So, Is PaperTrue.com a legit website?
We were wondering the same, too. To form a comprehensive idea of the services of the website, we decided to submit a paper for editing. Here, based on our experience we plan to present a general evaluation of PaperTrue.com where we plan to discuss all the aspects in details. It will help you form a clear idea of what to expect when you hire its services.
Let's get started, shall we?
PaperTrue.com: A Quick Overview
PaperTrue.com is an online academic website that provides professional proofreading and editing services to students. As claimed by them on the website "PaperTrue.com is a confidential, safe, and secure service that offers professional editing and proofreading by expert editors from your field. They ensure all your documents would be error-free and impactful with flawless language and formatting."
Before you plunge deep to understand whether PaperTrue.com is trustworthy or not, let's have a quick glance of some of the reviews posted on SiteJabber.com-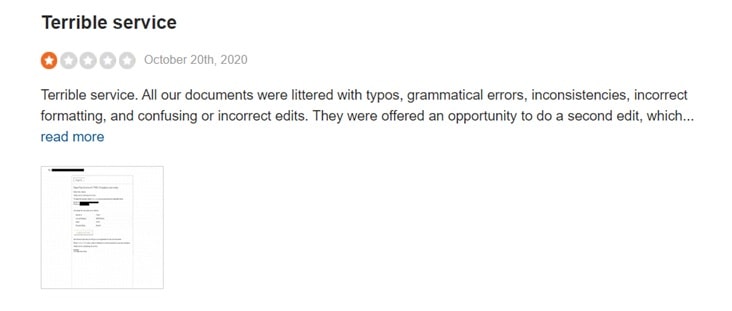 Image Source: www.sitejabber.com
Quality of works
We followed our general evaluating patter for the PaperTrue.com review. Firstly, we had a quick sneak peek into the list of services they offer thoroughly. The category is as follows-
Academic
Job applicants
Business
Authors
We found the 'academic category', obviously more relevant for students. It includes proofreading and editing services for various papers that students may find helpful. As claimed by them, the papers are as follows-
Thesis
Research Papers
Journal Article
Admissions Essay
Assignment
Dissertation
Essay
Literature Review
Personal Statement
Reports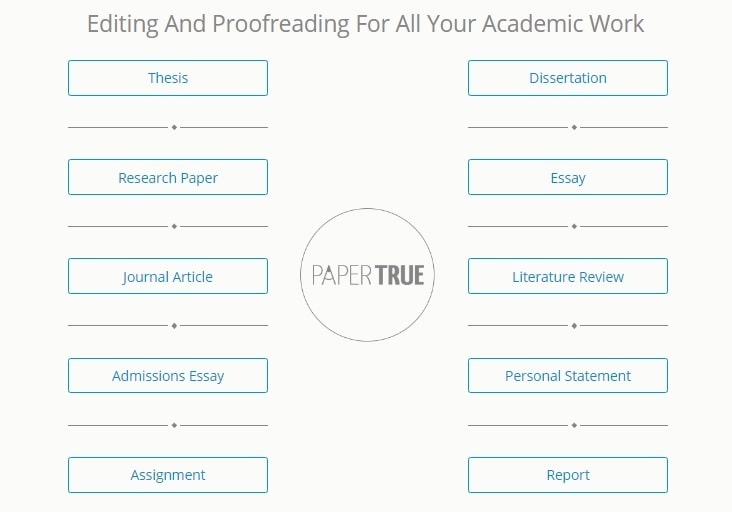 Image Source: www.papertrue.com
Now, before placing an order, we decided to check out a couple of proofreading samples provided by PaperTrue.com on their website. A look at the samples created doubts in our minds. They were not samples where the content was proofread and edited. They were only comments and suggestions. Their team of proofreaders and editors underlined certain issues and wrote comments on how to improve them.
Check out this sample-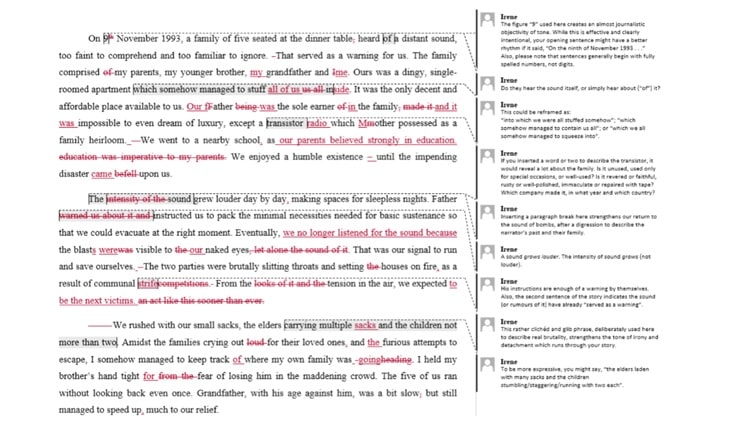 Image Source: www.papertrue.com
Once we went through the samples, we truly didn't know the quality of works to be expected from PaperTrue.com. But still, since PaperTrue.com claimed on their website "Editors are native English speakers who will provide your edited work in improved style, clarity and sentence structure. Your document would be formatted according to all prescribed guidelines." We decided to give it a try.
We received a word document with similar comments on the side. The editor only fixed a couple of sentence construction issues, but that was it. Additionally, some of the comments were excessively rude: "River is not a title which you are constantly using in your report. You don't need to capitalise the word every time." This is not how a true professional give suggestion improvements.
Cost/Price Plan
PaperTrue.com set nominal prices for proofreading and editing. There's a price calculator on the website that asks you about the word count, so the type of paper doesn't really make a difference.
If you have a paper of about 1000 words and a deadline of 2 days, the company offers a price of $24. If you want the editing process to be finished within 24 hours, then you would be charged $30. As the number of word increases or decreases, the price also fluctuates.
Apart from that, PaperTrue.com doesn't have any discounts or lucrative packages to offer to their customers, compared to other eminent proofreading and editing websites.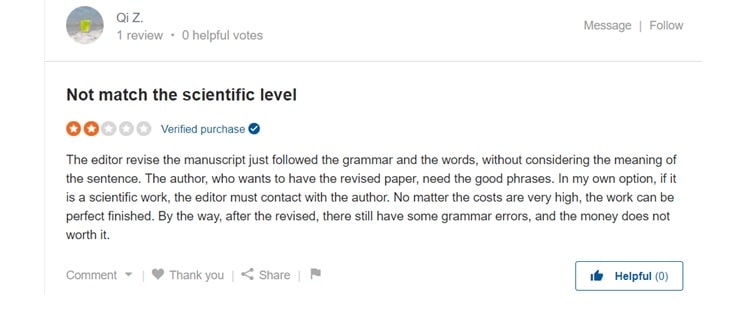 Image Source: www.sitejabber.com
Your order would incorporate academic proofreading, editing, referencing, formatting, and free revision of the editing document. This is the trickiest part. The editor doesn't proofread or edit, he/she offers comments without improving the essence of the paper. Thus, however affordable the rates are, for even this price, you are not getting enough.
Support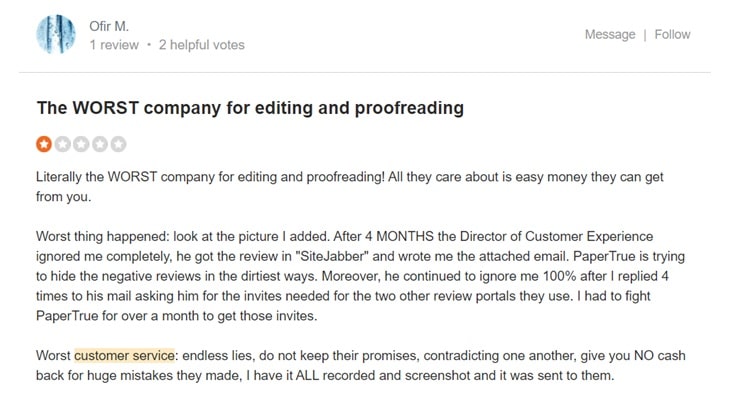 Image Source: www.sitejabber.com
PaperTrue.com claims to be 24*7 available for 7 days a week. When we decided to give it a try, we found the live chat works truly. We tried a couple of times, and an agent was always there to respond.
But, ultimately it's of no use, and we will tell you why. When we complained about not receiving flawless solutions from the assigned editor, the agent said that they would forward the issue to the company manager. They also asked us to wait for 3-4 business days. We waited for 7 days, and we got an answer that the request was reviewed, but our requirement for a full revision was completely rejected.
Delivery
As claimed by PaperTrue.com on their website "Fast, affordable, and always available to you. Since you have tight submission deadlines, our academic editing services are available to you 24 hours a day and 7 days a week."
Now, here is a screenshot we found online from a genuine user. If you are someone who is not able to decide whether PaperTrue.com is fraud or not, the screenshot is here at your disposal.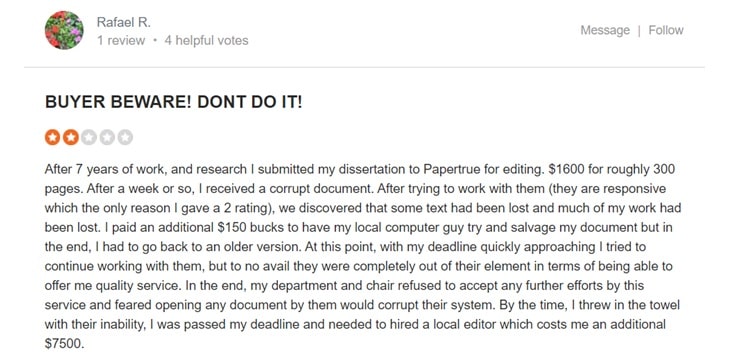 Image Source: www.sitejabber.com
Our copy was too returned two days past the deadline mentioned. It reflected poor proofreading and editing that could in no ways be submitted to your professors. Trustworthy academic help websites are always careful with the timely delivery of solutions. Therefore, we can say safely that PaperTrue.com should undeniably not the choice to make.
CONCLUSION
On the basis of our evaluation, we can safely conclude that PaperTrue.com cannot be considered as one of the most remarkable proofreading and editing services out there. As we mentioned, it has a few advantages, but the disadvantages clearly outweigh them.
The prices seem to be pocket-friendly at the very first glance, but it turns out to be incredibly expensive when you realise that you're not getting the content fully edited. Lastly, we would like to advise that if you want to entrust your paper editing responsibilities and need to meet a stringent deadline without constantly worrying about it, then it is always better to rely on other proofreading and editing services.