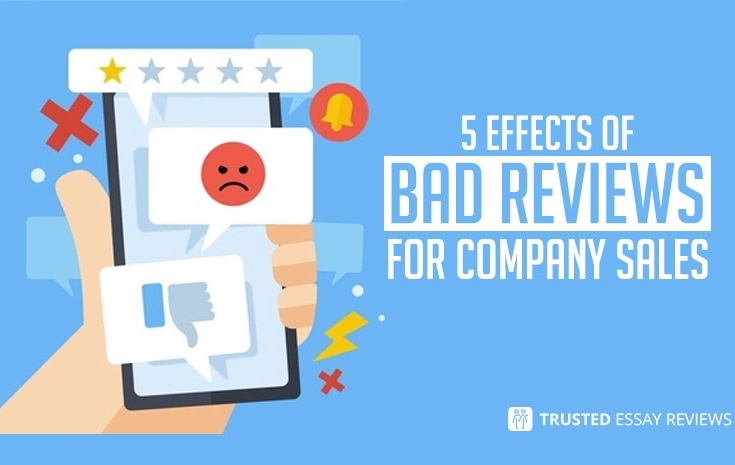 NicholasJones 09 Sep, 2021 Review
TrustedEssayReview: Top 5 Effects Of Bad Reviews For Company Sales
Establishing a company and gaining global recognition as a good business is not easy. But one thing which helps is good ratings and reviews. Be it food, clothes, furniture or anything you by we always check out the ratings and reviews before purchasing the item. So today, we are going to state some effects of bad ratings and reviews on companies.
1. Loss of sales
It is a no brainer that people want to buy items from an excellent rated company. Rating acts as an assurance that the quality and the product will be trustworthy. However, due to poor ratings, customers can get sceptical about getting your products. No one relies on a product/service without checking the ratings and reviews in the modern world. Due to poor reviews, you lose out on potential customers just because they did not find it compelling enough to invest their money and trust in your company. Overall, as a company, this may lead to a massive loss in the market with zero profits.
Also Read: 6 mistakes to avoid when responding to negative reviews
2. Brand value decreases
Be it a new startup or an existing company, anyone with bad reviews will have difficulty increasing their worth. Bad ratings tarnish the company's name, and people are not willing enough to at least try out their products. Based on research, it is found out that about 22% of customers are driven away just because of poor ratings. This can be a significant loss if the occurrences of this are pretty high. Once your brand value decreases, maybe for whatsoever reason, it might take you a lot of time to build up a good reputation again.
3. Affect online reach
If you are trying to grow an online business or have a business profile online, poor ratings can affect your reach. For example, suppose you have a restaurant with 2.8 ratings. So when someone in your locality is searching for good restaurant recommendations, no matter how close to you they are to the client, your name will not be listed on the top just because of a poor review. Instead, anyone with higher ratings will be listed on top. Thus, you will be losing on customers, sales and may not be able to establish the online reputation which you wished for.
4. Lose loyal employees
None wants to be associated with a bad company. Bad ratings can also make a business go bankrupt. Also, employees themselves want to be a part of an excellent job with a good brand name. There are many scenarios where we see that a business has to face a lot of controversies due to bad ratings. So it is evident that employees do not want to face such harsh critics and be associated with such a brand. No matter how loyal and hardworking the employees are, they will start backing off as it affects their image.
Also Read: Impact Of Fake And Negative Reviews
5. Can lead to a shutdown
Finally, due to all the causes mentioned above, there is a high probability that the company might have to shut down. Due to insufficient sales activity, a company might enter into a debt cycle from which they might never be able to recover. Poor rating, no customer and zero profits had led even big markets to0 shut down. Hence, satisfying your customers and getting their feedback is very important.
How to improve rating ad reviews?
Businesses work primarily on the feedback of customers. Hence, brands should try to get their input as much as possible. If it is negative, then there should be steps taken to improve them, and if it is positive, employees should encourage clients to come back and use their services again. Building a healthy customer and brand relationship is the key to have a flourishing business.
Just because a business is receiving many negative reviews, it does not mean it cannot bounce back. Working on the bad segments, taking measures to improve them, and creating awareness about it can bring on a significant change. So to control the damage, one can also reach out to the customer again and know why they are sad with their service and encourage them to visit again for a different experience. A happy customer will give you good ratings and a healthy going business.
Also Read: 6 Secrets Ideas on How to Spot a Fake Review