About Myessaygeeks.com
MyEssayGeeks .com is an online assignment writing company that supposedly has been in this business for more than 14 years. But a brief look at the content of their official website tells a whole different story.
The quality of English on the landing page of MyEssayGeeks.com is very shoddy and peppered with mistakes. If MyEssayGeeks.com is genuinely a leading assignment writing company with so many highly qualified writers, the content official landing page does not reflect such quality and support such tall claims. The page is full of many other claims too, such as quality assignment help and best homework help website that seems quite fishy. But, it is the stark differences between their onsite testimonials and actual user reviews onsite reviewer pages, which uncover the hidden reality of MyEssayGeeks.com. The company is not a reliable one and, in all probability, is a scam and not trustworthy.
Please take a look at the unnerving things our in-depth investigation uncovered.
As mentioned already, MyEssayGeeks.com is an online academic writing company with more than 1389 PhD. writers. They come from parts unknown as they do not have an address listed on their website regarding their company premises. The company claims to offers instant assignment help, quality assignment help, dissertation writing help, research assistance and much more.
What' surprising is a striking lack of negative reviews online. When even the most reputed and trusted services have a few disgruntled reviews to their name, how does MyEssayGeeks.com have no negative reviews to their name? Well, it isn't a miracle but a shoddy business practice.

Most of their positive reviews are fake and auto-generated. And, so are all of their customer ratings & stats.
Quality of works
MyEssayGeek's Questionable Quality
Despite having 1000+ writers, this is what clients have to say about the quality of the solutions delivered by MyEssayGeeks.com.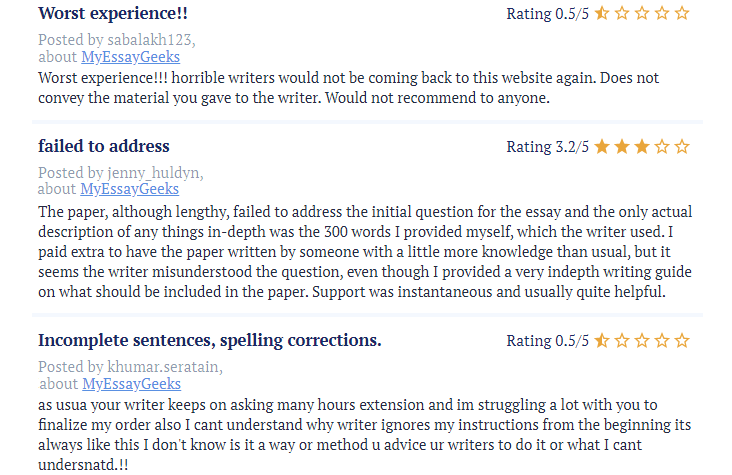 Source: www.scamfighter.com
The blatant lie of possessing genuine experts is all too evident from this review. The client found numerous mistakes in the content and no longer wants to avail their services. Coupled with all of the information above, we can gradually uncover the truth behind MyEssayGeeks.com
Cost/Price Plan
The Truth Behind MyEssayGeek's "Low" Prices
The prices offered by the company for its services are not worth the quality of the solutions provided. Here's why.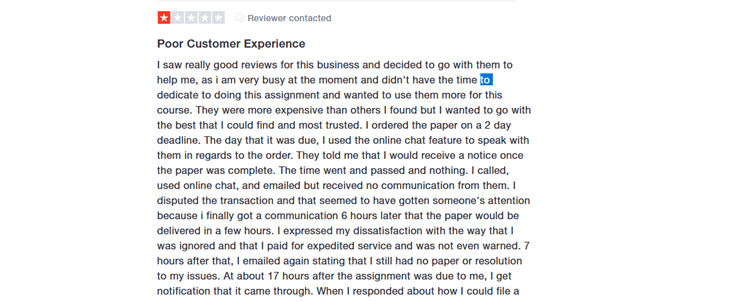 Source: www.trustpilot.com
MyEssayGeeks.com's deceptive practices are evident from the above review. The company delivers no refunds after sending you a low-quality assignment solution. What's worse, it uses automated tools to come up with positive reviews. It does not take a genius to figure out that the company is not a legit one.
Support
Shady Support and Delivery Practices

Source: www.sitejabber.com
Yet again, MyEssayGeeks fails to live up the tall claims posted on their website. In reality, the company turns out to be; however, another fraud assignment service. These malicious services take advantage of a student's plight and desperation to turn a quick buck. MyEssayGeeks is not reliable at all and is not a legit assignment writing service.
Delivery
And, that brings us to the end of our thorough investigation. The results and findings above clearly from a plethora of genuine MyEssayGeeks.com reviews show that the company is not trustworthy, not legit and a scam run by a bunch of fraudulent & malicious individuals. Thus, the final verdict is that MyEssayGeeks.com is an utterly unreliable writing service that swindles young students out of their money. Avoid this fraudulent company at all costs and save yourself unnecessary tension.