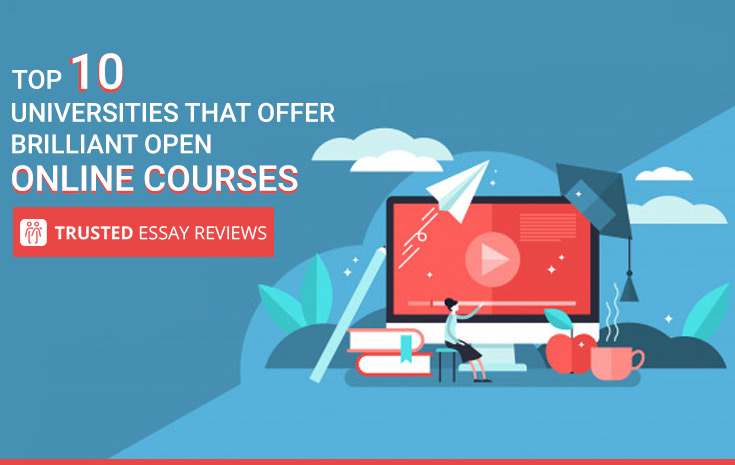 NicholasJones 23 Oct, 2019 Student guide
TrustedEssayReview: Top 10 universities that offer brilliant open online courses
Even a few years ago if someone told you that you could learn complex concepts of data science and analytics from the comforts of your home, you'd probably brush it off instantly. But that has turned into a reality with the Midas touch of technology. The popularity of MOOCs (massive open online courses) has escalated to new heights. This has resulted in the premier educational institutions designing courses that students from different parts of the world can pursue online.
This way, the students, who have always dreamt of studying in the Ivy League institutions, are no longer held back by the geographical boundaries.
On that note, presented below are some of the open courses from the premier universities that you can consider.
Harvard University
Courses offered: Buddhism through its scriptures, strengthening community health worker programs, gene-editing applications, disruptive strategy, Fintech, etc.
Harvard University presents learners with brilliant opportunities in terms of online college courses that can facilitate the growth of one's career or simply enable students to pursue their personal passions. The courses are available on a number of platforms like iTunes, edX, and Harvard Extension School, among others. Harvard's academic online library is the largest too as it consists of more than 18 million volumes of multimedia resources.
The University of Pennsylvania
Courses offered: Microeconomics (part I and II), ancient philosophy (part I and II), foundations of positive psychology, calculus: single variable (single course, part 1-5), etc.
The institution offers open courses through their collaboration with Coursera and edX. Penn's Arts & Sciences' online learning program consists of fascinating perspectives that have been provided since 2011. When you choose any of the online certificate courses, you'll have to pay a small administrative fee, while the non-credit courses are available to lifetime learners anywhere in the world.
Stanford University
Courses offered: Tools for design thinking, Data mining and analysis, deep generative models, Diet and gene presentation, Economics of the clean energy transition, etc.
Stanford University offers open online courses through that are accessible to lifelong learners who can use these courses to get ahead in their career and enrich their knowledge base. Stanford presents its free courses through YouTube, iTunes and Stanford eCorner.
The University of California, San Diego
Course Offered: Data science, copy editing, corporate education and custom training, environment and sustainability, occupational safety and health, counselling and behavioural sciences, etc.
Academically, The University of California, San Diego is recognized as a Public Ivy and ranked 16th best in the world according to US News and World Report. The University of California, San Diego, provides online college courses through their education extension division. The UC San Diego Extension presents tuition-free courses to impart valuable knowledge to any individual keen on upgrading his/her skills according to their requirements. The UC San Diego Extension also offers international programs.
Georgia Institute of Technology
Courses offered: Human-computer interaction (Part I-IV), Health informatics, Innovation leadership, Data analysis in business, etc.
The Georgia Institute of Technology was founded in 1885 and is a member school of the University System of Georgia comprising six colleges dedicated to technology and science. The Georgia Institute of Technology presents online college courses through its partnership with Coursera, edX, and Udacity. Students who pursue these MOOCs are allowed to study at their own pace, on their own time, without shelling out tuition fees. Many of Georgia Tech's online courses are available for a nominal charge. Upon completion of these courses, online learners receive a digital badge, as verification upon completion.
Arizona State University
Courses offered: The courses are offered in different disciplines like education, communication, music, healthcare, business, and economics, among others.
Arizona State University has three campuses that offer more than 50,000 students a dynamic place to learn. Forbes has recognized ASU as one of the highest value educations in the country. Arizona State University offers an online distance-learning platform that has partnered with Starbucks. Arizona State University's online platform includes myriad of open courses for learners around the world. These courses are often recommended for those who wish to continue their education or personal development.
University of Washington
Courses offered: Advanced ethical hacking, machine learning, accounting and finance, applied digital marketing, algorithms and data structures, etc.
The University of Washington's Professional and Continuing Education department has collaborated with edX and Coursera to present open courses online. These courses include video instruction, class-specific assignments, and tests regarding a student's retention of study materials. The institution is 1 of 16 member schools offering Coursera tuition-free, non-credit classes for those looking to enhance their professional knowledge. Most of the programs are designed to invest at least 3 hours of work, one day a week.
University of Virginia
Courses offered: Cyber-security management, leadership in human resources management, public relations, procurement and contracts management, etc.
The University of Virginia offers free college courses online with a massive open online course. These courses can be availed by anyone around the world. However, UVA doesn't provide college credits for these courses. UVA has teamed up with Coursera to offer the diverse MOOCs. These courses are typically smaller and integral to a specific curriculum. The courses typically take four to six weeks to complete and taught by renowned professionals. Students can learn at the pace that works best for them. They can participate in exercises that are interactive. There is no charge for these courses.
University of Colorado
Courses offered: Computer communication, applied cryptography, C programming for game development, algorithms for battery management systems, etc.
The University of Colorado System offers open college courses through their Massive Open Online Courses (MOOCs) division in collaboration with Coursera. The University of Colorado System is an endeavour by the institution to provide free non-credit courses open to students across the world. Learners from more than 190 countries take advantage of these courses. All four campuses offer approximately 800 outreach programs in a variety of disciplines to the students.
Columbia University
Courses offered: Social policy for social services, construction project management and planning, artificial intelligence, civil war and reconstruction, animation and CGI motion, business analytics, etc.
One of the seven Ivy League Universities, Columbia University has joined hands with Coursera and edX to provide open courses at zero cost to the student through their ColumbiaX program. ColmbiaX's free online college courses provide no college credits but are available in a number of fields and industries. The esteemed faculty of Columbia University takes part in the ColumbiaX program, which offers professional certificates after the completion of certain programs of study.
Wrapping it up,
You may want to enhance your knowledge of the discipline you have studied. Or you may want to dabble into an entirely unknown territory. In any case, the open courses from these universities will help you gather concrete knowledge of the diverse areas. You can take your pick from any of these courses and broaden the horizon of your knowledge.