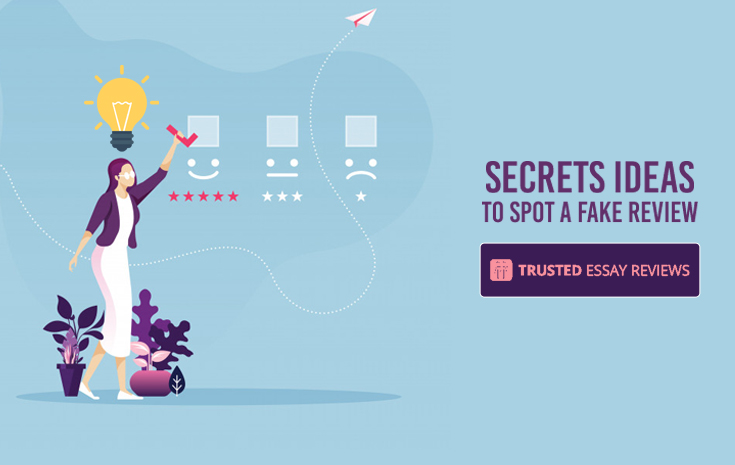 NicholasJones 25 Mar, 2020 Review
TrustedEssayReview: 6 Best Ways to Spot a Fake Review
What exactly are fake reviews?
A fake review is referred to the online review, which may seem to be coming from a genuine customer but is actually paid one by the competitors to lower its reputation. This creates a huge impact on the mind of the buyers who may change their decision of availing services by just reading the review. The search for 'how to spot a fake review' has been increased at a tremendous rate. The best advice for this kind of situation would be not to get into any kind of conclusion just in the beginning.
Fake ratings are master in getting the customers against your company and your services. Many competitors can get into the level of sabotaging your company with fake reviews to garner popularity for their own brand. But if you have confidence in your company, employees and the services, there's no reason to lose faith. This blog is created with the purpose to spot a fake review. If there is a genuine fake review, you must work on improving your services. But if there is a fake review, you need to take steps for it immediately.
Here are a few things you need to consider for spotting a fake review.
Read between the lines
Inspect closely if the review is getting over the top while stating his/her review. Find out if the reviewer uses the same line over and over again. While reading gets a closer look to find if the reviewer has specified anything about his/her dislike. If the reviewer lacks details in the review, then it probably means it is a fake one.
Pay attention to the tone and the length
In most of the cases, it has been seen that a reviewer votes by giving one star as his/her main intention is just to lower the reputation. Sometimes they just leave short reviews like "very bad", "poor quality", etc. without giving out any details of what they didn't like.
Look for other reviews of the particular reviewer
Beside the name of the reviewer, you can find out whether the reviewer has written other reviews or not. If not, then you can consider that the review is not written by a genuine person.
When a reviewer uses the personal pronoun
If you really want to get your review across due to your bad experience you write in a way you speak to other people. However, in a fake review, you will see the person to be writing using personal pronoun like "I", "me" and concentrates more on writing proper sentences.
Include more verbs than nouns
According to the language analysis, when reviewers frequently use verbs to express the quality of the services, you can understand that it is a fake review. They know very nice actually that verb has a major impact on the customer's mind.
Suspicious image of the reviewer
Get inside the reviewer's profile to check if the person is genuine or not. Pay closer attention to the name. Fake reviewers might hide behind an anonymous image with the intention to just put the reputation down of the company
Though these may not make you a master in spotting all the fake reviews but now that you have a general idea of how to spot a fake review, you have the upper hand in this as you know for which ratings you need to take required step.
Getting a false review for a small or a big company may bring a lot of disappointments. This is probably the biggest nightmare for any company.