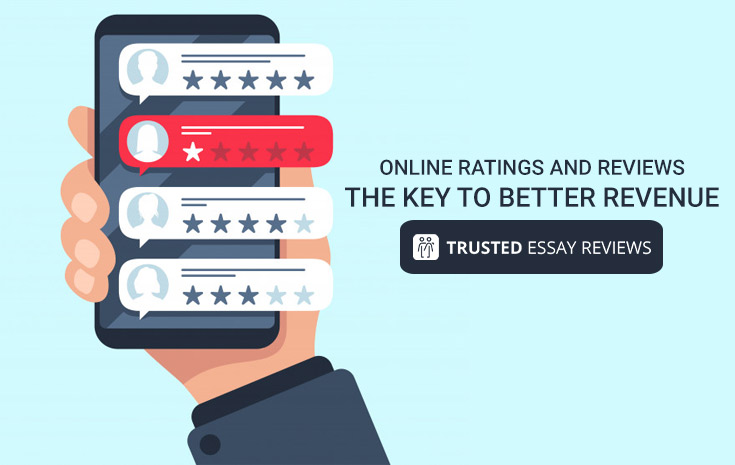 NicholasJones 17 Aug, 2020 Review
TrustedEssayReview: Online Ratings and Reviews: The Key to Better Revenue
The age of technology and the internet has brought about a radical wave of change in how we shop. Thanks to easy access to the web, you can now shop right from your spot on the sofa without leaving the house. From books to Myassignmenthelp services, from ice cream to refrigerators, from toothpaste to dental services – you can get it all with one click. But not before checking the ratings and reviews, right? A survey conducted in 2019 showed how 90% of online shoppers check a minimum of one review before visiting the website of a business and at least 10 before making a purchase decision.
Just as shopping apps have replaced brick and mortar stores, marketing and promotion techniques have evolved too. With e-commerce businesses taking over, online testimonials have replaced its forefathers, word-of-the-mouth recommendations. So, how do testimonials and ratings from clients affect a business's performance? Let us delve a little deeper into the matter.
5 Ways Client Ratings and Feedback Impact Your Brand's Success
With your business's success relying on the appreciation that you garner, online feedback becomes a vital part of branding. Now, it will become easier for you to optimise client experience once you understand the role of reviews in creating a positive footprint online. Here you go!
1. 85% of buyers consider reviews to be social proof
Okay, give your honest opinion. Who would you trust more – a TV ad or reviews from people even if they are total strangers? See, that's the whole point of it. Online reviews are the biggest proof of the social existence of your brand.
Since starting a business online is no longer a complicated affair, the web is awash with online stores. Genuine reviews are what sets a reputed brand apart from the others. When customers visit a site and see five-star reviews populating the various product pages, they get a sense of security. As a result, they take the leap of faith and place orders.
Pro Tip: If you want your customers to leave reviews on your site, you can offer a discount coupon in return for a review. This way, your customers will feel valued for and motivated enough to leave their feedback.
2. The more the online reviews, the better brand visibility
To be a successful brand, you need to be visible – there's no rocket science in that. Your shoppers won't type your website's URL straightway. They are more likely to look for solutions on search engines like Google and Bing with keywords of what they need. Some may even come across your brand on Instagram or Facebook.
Other than using SEO tactics to index your website with surfacing content, online reviews can also feed the content machine to keep the search engine algorithms on your favour. So, when you build a pipeline of reviews (preferably positive, of course), search engines rank you higher.
Pro Tip: Ask your customers directly to leave a feedback for you – positive or negative. Site dynamics work a lot like Twitter. When your brand garners more reviews, it becomes a trending item that is being talked about. This leads to more exposure.
3. 73% of consumers trust a business with more positive reviews
First-time visitors will trust you when they see others have placed their trust in you. It's like a chain reaction. Therefore, online reviews (positive ones only) can help you build trust and brand credibility.
When prospective buyers visit your site and see that 100 others have already invested in your products or services, you are more likely to convert views to successful sales. Even if there are negative reviews, new users may brush it off if they see the scales inching towards customers having good things to say.
Pro Tip: If you receive a negative review, do not avoid it or charge at the customer. Instead, address the issue politely and apologise. Even when you ask the customer to share the order ID, be polite. You never know, but you may end up retaining some of these customers with your behaviour.
4. Online reviews make your brand the talk of the town
Be it good or bad reviews; they can serve as a way of getting people to talk about your brand. And you know what that means – increased visibility. Thus, encouraging your clients to review your products and services can expand your brand's reach.
Moreover, happy customers are likely to share their thoughts on other places too, which can increase your multi-channel footprint. When people go out and beyond your site and share their reviews on external websites like TrustPilot, Yelp, and TripAdvisor, you get a better ranking. How? Because Google collects data from such sites while issuing ranks to online brands.
Pro Tip: Make sure to open profiles in all possible review aggregator sites and do not forget to link them all to the review section on your website. This will help you add it all up for a higher rank and better visibility on search engines.
5. Online reviews give your customers an open line
When customers post reviews on your site, they expect you to respond to what they have to say and take their feedback into account. This gives you an open forum to communicate with your consumers and show your gratitude.
More importantly, online feedback gives you insights into the areas where your business lacks. You can bring in positive changes to show that your customers matter. The personalised responses also give your brand a face. When you develop a personal connection with your customers by replying to them and taking their suggestions, they tend to trust your brand more.
Pro Tip: When a customer leaves a review, positive or negative, make sure that you reply as soon as possible. Be polite and show how thankful you are for them taking out time to leave a comment on your website.
Parting words,
The revenue that your business generates is directly proportional to the positive reviews and high ratings your brand gets. If you want your business to get the attention it deserves, request your consumers to leave reviews on your site by sending them follow-up emails. You can also incentivise the process to get them to devote time and write a testimonial.